| | | | | | | | | |
| --- | --- | --- | --- | --- | --- | --- | --- | --- |
| | | | | | | | | |
| | | | | | | | | |
| | Liverpoolfc 20 songs listening | | 5 times European Cup Victories | | Liverpool story | | 2007 New Steven Gerrard MBE Compilation | |
Sunday, July 27, 2008
Kop 10 Liverpool FC Players 1919-1939
Kop 10 Liverpool FC Players 1919-1939 | xvid-lame | wide | 97.41 mb
Mediafire.com
|
Viddler
Hugie MacAulley on Academy preseason
xvid-lame | lfc.tv | wide | 11.86 mb
Mediafire.com
|
Youtube
|
Viddler
Friday, July 11, 2008
LiverpoolFC-Season Review 07-08
01
http://rapidshare.com/files/128495167/LiverpoolFC-_Season_Review_07-08.part01.rar
02
http://rapidshare.com/files/128502170/LiverpoolFC-_Season_Review_07-08.part02.rar
03
http://rapidshare.com/files/128508203/LiverpoolFC-_Season_Review_07-08.part03.rar
04
http://rapidshare.com/files/128681619/LiverpoolFC-_Season_Review_07-08.part04.rar
05
http://rapidshare.com/files/128677622/LiverpoolFC-_Season_Review_07-08.part05.rar
06
http://rapidshare.com/files/128690197/LiverpoolFC-_Season_Review_07-08.part06.rar
07
http://rapidshare.com/files/128704563/LiverpoolFC-_Season_Review_07-08.part07.rar
08
http://rapidshare.com/files/128713372/LiverpoolFC-_Season_Review_07-08.part08.rar
09
http://rapidshare.com/files/128731512/LiverpoolFC-_Season_Review_07-08.part09.rar
10
http://rapidshare.com/files/128739771/LiverpoolFC-_Season_Review_07-08.part10.rar
11
http://rapidshare.com/files/128747422/LiverpoolFC-_Season_Review_07-08.part11.rar
12
http://rapidshare.com/files/128758627/LiverpoolFC-_Season_Review_07-08.part12.rar
13
http://rapidshare.com/files/128763948/LiverpoolFC-_Season_Review_07-08.part13.rar
14
http://rapidshare.com/files/128779859/LiverpoolFC-_Season_Review_07-08.part14.rar
15
http://rapidshare.com/files/128777937/LiverpoolFC-_Season_Review_07-08.part15.rar
16
http://rapidshare.com/files/128664838/LiverpoolFC-_Season_Review_07-08.part16.rar
Saturday, July 05, 2008
Welcome Dossena
Andrea Dossena
has today put pen to paper on a four year Anfield deal.
The Italian full-back becomes Rafael Benitez's second acquisition of the summer following the arrival of Swiss international Philipp Degen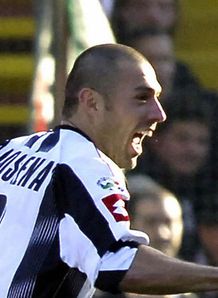 Dossena, who has been capped once at senior level by Italy, is seen as the ideal replacement for John Arne Riise, who departed for Roma earlier this month.
The 26-year-old began his career aged 14 with Hellas Verona in northern Italy, coming through the ranks before spending four seasons in the senior squad.
His big break came when he signed for Udinese in 2005, though he was immediately loaned to Treviso FBC 1993 for a year.
The defender returned to the Stadio Friuli ahead of the 2006-07 campaign, where his form eventually saw him make his international bow in a friendly against South Africa in October 2007.
By the end of the season his move to Merseyside had been confirmed, with Dossena saying: "Liverpool are a great team, and it is great to be linked to such a famous club. I want to play Champions League football, the Reds have already won it and they often get to the big games. In England, they are on the same level as Manchester United."
Degen Speaks Exclusively to LiverpoolFC.TV
New signing Philipp Degen spoke exclusively to Liverpoolfc.tv this morning ahead of his first training session with the club.
How does it feel to be an LFC player?
I feel very good. It's a great club with great fans and I am happy to be here. I know the club has a strong tradition and a rich history. I hope to play a big role in the future.
How much are you looking forward to the challenge of playing in England?
Well, you probably know that I played in Germany with Borussia Dortmund - that was a strong league too. But now I'm looking forward to the challenge of England and the Premier League, which is probably the strongest league in the world right now.
You've been to Anfield before, haven't you?
I have been to Anfield before, with Basel; although I did not play on that occasion. But it was a great experience and to see the fans singing the famous song 'You'll Never Walk Alone' was something special.
What are your main attributes as a player?
I am a pacey player who likes to get forward. I have a good attacking mentality and like to get up and down the flank. I also have good technique.
How important was Rafa in you joining the club?
He was very important. He is the manager here and one of the finest coaches in the world. He has a fantastic record with both LFC and Valencia. I'm looking forward to working with him.
You will face stiff competition from Steve Finnan and Alvaro Arbeloa in the right-back berth...
Yes, I know. They are very good players and it will be difficult but I am ready for the challenge and look forward to breaking into the first team soon.
Can we challenge for the league?
I am sure we can challenge. We have a very strong team with the likes of Steven Gerrard and Fernando Torres. But there are some strong opponents in Man Utd and Chelsea, so we will have to be very consistent. It's a long season and anything can happen but we will go into the first game of the campaign hoping to push them all the way.
Finally, a message for the fans?
I will do all I can for the side and for the fans. I want the club to succeed and I will always do my best to ensure Liverpool are winning matches.
Liverpool FC News
Edit by Googlenews

Clips are for only education. Please delete your downloaded clips after your viewing.